VITA-MIN MULTIPLE SPORT BRINGS HOME A PRESTIGIOUS AWARD!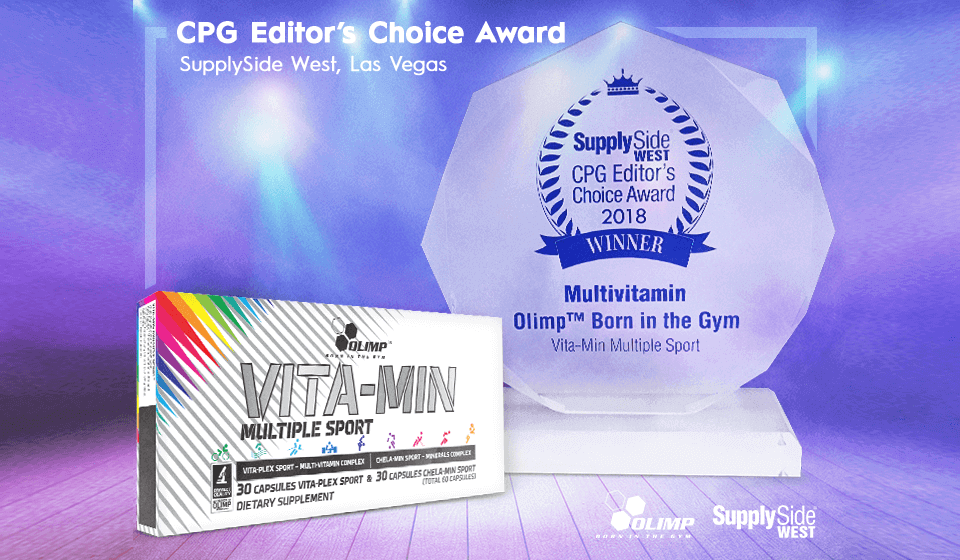 In 2018, the 7th Annual SupplySide CPG Editor's Choice Awards recognized innovative finished products launched by CPG companies in a variety of supplements and food & beverage categories.
Five consumer packaged goods (CPG) products were selected by the SupplySide editorial team for achievements in innovation and market impact in 28 different categories.
We are happy to announce that two of our products made it to the final round and were recognized as Top 5 finalists. Olimp Vita-Min Multiple Sport was named to the short list in the multivitamin category and Olimp Thermospeed Hardcore in the Weight Management category.
Winners, one in each category were announced at SupplySide West 2018 during presentations at SupplySide Central on Nov. 8 at Mandalay Bay Resort in Las Vegas, Nevada where Olimp Sport Nutrition's Vita-Min Multiple Sport won the prestigious 'CPG Editor's Choice Award' in multivitamin category. We are extremely pleased to see that our innovative products are being recognized not only in our home country, but also nationwide.